Why Local Businesses Choose Commercial Office Furniture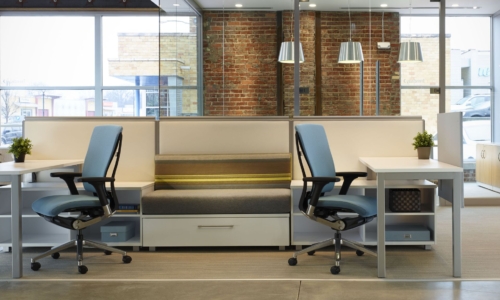 Local businesses in the greater Kalamazoo area choose a commercial office furniture store for their furniture because it provides them with durable options that they can count on. Commercial office furniture provides both comfort for workers throughout the workday, while also bringing durable options into an office space that sees regular use day in and day out.
Office Solutions, Inc. has a huge selection of commercial office furniture for customers in the area to choose from. We have supported businesses in the greater Kalamazoo area for years, and the modern, commercial office furniture that we offer helps spaces stay up-to-date and find the unique solutions that complement their space.
Residential vs. commercial
Office Solutions, Inc. also carries a variety of residential furniture options, so it is important to know the differences between them and commercial office furniture to ensure you always get the right products for your needs.  Where commercial office furniture is most often concerned with the functionality and layout of the furniture, residential furniture is often more worried with the interior design angle of the furniture, as well as cost-effective options that may not be as durable, but work for the home offices' needs.
Commercial offices are focused primarily on production, so space-saving options that allow for maximized workflow are the better options, compared to residential options that may instead focus on the look and feel of the furniture.
Local services for office furniture
Local businesses choose Office Solutions, Inc. for their commercial office furniture not only because we offer everything that they could need, but we also provide a variety of services that make transitioning to new furniture simpler. These services include sales, service, and leasing, design/CAD layout, delivery, installation, and cleanup, and moving and relocation.
Each of the services that Office Solutions, Inc. provides is done so with the expectations of our customers in mind. When they have a vision for what their office space could be, it is our mission to help realize that vision, making the transition as simple and easy as possible.
With the variety of options and professional services at Office Solutions, Inc., you can see why so many of our local businesses count on us to provide them with the commercial office furniture they need. Contact Office Solutions, Inc. today to learn more about commercial office furniture and how it can help your business, local or not!