Quality Conference Room Furniture Best Invites Guests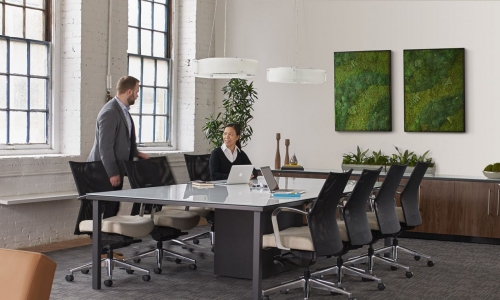 When planning meetings, you can put your mind at ease about the comfort of your guests when you know that you have quality conference room furniture. Meetings can sometimes be a stressful experience for both the host as well as the visitor, but office furniture from Office Solutions, Inc. can make someone feel comfortable and welcome to a business, whatever the meeting entails, helping everyone relax while they focus on business happening in the meeting.
Built for your purposes
Depending on the types of meetings that your business conducts, your conference room furniture can help to suit your needs. From ergonomic chairs that may assist with meetings that run for longer periods of time to tables that come in all sizes for the average amount of guests that you host to your business, Office Solutions, Inc. has the options available to you to let you find the perfect match. We even provide design/CAD layout and installation services, so, if you are not sure how you should set up your conference room but know the general purpose you wat to get out of it, our team of professionals will ensure that it gets the perfect layout.
Here when you need us
If your conference room only has so many seats for your usual crowd, but is expecting more for an important meeting, Office Solutions, Inc. offers conference room furniture for lease as well! We care about our customer's needs and offer services to help them with whatever office furniture solutions they need when they need them. When a big meeting is coming up, and you want to impress your visitors by offering quality conference room furniture while they stay in your facility, count on the options at Office Solutions, Inc.
Offering a large variety of conference furniture options and services related to them, Office Solutions, Inc. has everything that businesses need to perfect their conference space. Contact us to get started on changes to yours!