Increase Office Appeal with Comfortable and Classic Mesh Office Chairs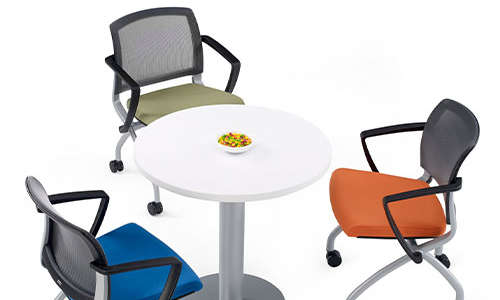 Whether you're moving into a new office space, redoing your current office, or looking for a great option to use in your home's office, mesh office chairs from Office Solutions, Inc. can provide you with the comfortable seating solutions you need. A classic office chair design that has withstood the test of time, mesh office chairs provide a professional appearance while giving a comfortable option for long-term office work.
Favored design
Not only does Office Solutions, Inc. carry mesh office chairs for your office space, but we carry a large variety of designs and brands, so you have the options to choose which bests fits your space. With different features offered on different models, you can see what every chair has to offer to you in our catalogue to make an informed decision about which has your preferences.
Add color
If your office spaces are meant to be more eye-catching in color scheme, we carry different brands of mesh office chairs that are available in more than just your industry-standard black! With options like blue, green, orange, and more, you can get a single or set of mesh office chairs that match the theming of the office space they're within. Each come with the same features as the standard black design of the same model and are sure to be a satisfactory addition to your office.
Employees and guests
Office Solutions, Inc. carries both rolling, office mesh chair designs as well as guest chair designs that are perfect for waiting rooms, reception areas, and more. Using the same breathable, mesh back support as rolling office chairs, legged guest chairs can bring comfort and relaxation to anyone waiting to meet with you or your staff.
Office Solutions, Inc. has the vast options of office additions that you can use to make any space into the perfect place to work. Trusted office furniture dealers, installers, relocators, and more, let Office Solutions, Inc. turn your workspace into the one you've always wanted.