Finish Spaces in Style with Kalamazoo Office Furniture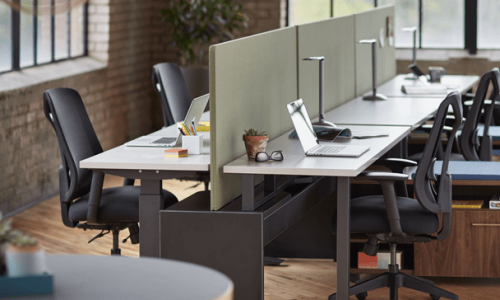 When you are building out an office space and need furniture that will help it be completed for functionality or for a renewed appearance, Office Furniture, Inc. provides Kalamazoo office furniture of all varieties. From the board room to the break room, Office Solutions, Inc. can provide chairs, tables, desks, cabinets, and more for you to fill out spaces how you need. If you need help with how to fit your new furniture into your space, we even provide design/CAD layout options and can assist with delivery and installation. When you have office furniture needs, count on Office Solutions, Inc.
Everything you need in one place
No matter what kind of Kalamazoo office furniture you are interested in, you can find everything you are looking for in our online catalogue. The Office Furniture Buyer's Guide that OSI provides is the best tool for office owners to find the furniture they are looking for, no matter the price, style, etc. Depending on the type of business you are, you may need cubicles for workspaces, white boards or bulletin boards for meeting rooms, and more. Each item is featured in our catalogue, making it easy for anyone who needs quality office furniture to get what they need with ease.
Kalamazoo office furniture for everyone
From medical offices to a school secretary's desk space, Office Solutions, Inc. has Kalamazoo office furniture to best complete the space to serve those who are using the space. If there is a specific layout that will better serve your space, our large variety of different desks, tables, and more mean that you can almost certainly find something that will work for you. And many of the brands and designs that we carry come in different options of materials, meaning that you can also fit the look that you need for your office space. Our team has worked with a large variety of office settings and can use our knowledge and experience to help you find the best for your needs.
With a focus on quality products and excellent customer service, Office Solutions, Inc. provides the best Kalamazoo office furniture experience. Whether you are building a new office or redoing the interior of your space, we can help you find the best furniture to fit the space. Contact us today to learn more about some of our options or take a look through our online catalogue to see what we have available!